MidWest "The Original" Curious Cat Cube, Cat House / Cat Condo in Brown Faux Suede & Synthetic Sheepskin
Designed to fulfill a cat's instinct to lounge and play, the Curious Cat Cube (cat house / cat condo) of the Feline Nuvo line by Midwest Homes for Pets offers cozy comfort and a fun cat hide-away in a compact package. The cat cube (cat house / cat condo) is easy to assemble and folds down for convenient storage. The attractive, brown faux suede and synthetic sheepskin (model 137-BR) compliments any décor. The Curious Cat Cube features a cushioned bed topper with stuffed bolsters for an elevated lounging spot and a cozy hide-away with a large entry for the optimum space for your pet cat to curl up and nap. The cat cube also features hide & seek side cutouts and hanging plush toys to promote play. We at Midwest Homes for Pets understand that your cat is a part of your family and that's why we ensure our cat condos / cat houses / cat trees are manufactured with the highest quality control standards creating a safe home for your pet cat that you can feel confident with. Midwest Homes for Pets stands behind the quality of our products with a 1 Year Manufacturer's Warranty. If you have any questions about our Curious Cat Cube our customer service department would be glad to help you.
Color: Brown Single Story
Brand: MidWest Homes for Pets
ASIN: B00EV6FU7C
UPC: 015568961625
Part No: 137-BR
Kitty City Large Cat Bed, Cat Cube, Cat House/Cat Condo, Pop Up Bed, Stackable Bed
With a catnap perch and a private den combined in one fun space, The Cat Condo is a hit with even the pickiest felines. And there's plenty for you to love, too. The pleasantly patterned folding walls set up and take down in seconds, yet are sturdy enough to stack two Cat Condos on top of each other. (Second cat condo sold separately.) Soft polyester pillow and base cushion are designed for laze-all-day comfort and, better yet, are machine washable and dryer safe. All in all, The Cat Condo is one hot spot you shouldn't pass up!
Brand: Kitty City
ASIN: B079M1L4R6
UPC: 876173002772
Part No: CM-0277-CS01
FEANDREA Cat Tree with Sisal-Covered Scratching Posts and 2 Plush Condos Cat Furniture for Kittens Beige UPCT61M
SONGMICS cat trees have all the characteristics you need to make your cats flourish.LOUNGING - Enlarged top perch with raised edge offers luxurious lounging experience;SCRATCHING - Strong posts covered by natural sisal rope allow cats to scratch and stretch;NAPPING - Thanks to the dual condo design, your cats can finally have their own beds and make peace with each other.Other than all those fun, your pets' safety will also be taken care of. The bottom is strengthened with battens to enhance stability; anti-toppling fittings are also included so you can secure it to the wall. Whether you have kittens, large cats or aged cats, this cat tree is a wonderful home for your furry pals. Specifications:- Colour: Beige- Material: CARB-Certified Particle Board, Plush, Sisal Rope- Product Size: 23.6"L x 15.7"W x 33.1"H (60 x 40 x 84cm)- Product Weight: 24lbs (10.9kg) Package contents:- 1 x Cat Tree- 1 x Instructions SONGMICS Notes:- Place this item on a level floor in a room corner.- Avoid humid environments.- Children are not allowed to climb or play with this product.- We recommend you secure this tower to the wall by the anti-toppling fittings included. - If your cat starts to chew or eat the furry balls or elastic band, please remove the toys and keep them out of the reach of your cat...
Color: Beige
Brand: FEANDREA
ASIN: B07M66Z35Q
Part No: UPCT61M
Beige 73" Cat Tree Scratcher Play House Condo Furniture Bed Post Pet House
Your kitten or cat will love this cat treewith scratching posts-it combines the benefits of an outdoor tree with thesafety of indoor cat furniture. The cat tree provides your feline friend withoptimal surfaces for sharpening claws, a fun place for playing, and a way toshow off impressive climbing and jumping skills-plus a cozy spot for naptime. Features: ✔Great for large cats ✔Multiple Platforms ✔Two climbing Ladders ✔Two Play Condo House ✔Funny Toys Cat tree cat tower cat condo cat playground cat activity center cat house kitten tree cat tree cat tower cat condo cat playground cat activity center cat house kitten tree cat tree cat tower cat condo cat playground cat activity center cat house kitten tree cat tower cat condo cat playground cat activity center cat house kitten tree cat tower cat condo cat playground cat activity center cat house kitten tree cat tower cat condo cat playground cat activity center cat house kitten tree cat tower cat condo cat playground cat activity center cat house kitten tree
Color: Beige
Brand: BestPet
ASIN: B018LOKZHY
UPC: 884487270206
Part No: CT-T07-Beige
Trixie Pet Products Miguel Fold and Store Cat Tower, 20.25 x 13.75 x 25.5, Gray/Light Gray
The unique design of our Miguel Fold and Store Cat Tower make it ideal for small spaces. Simply fold shut for quick and easy storage. While in use, it will provide endless opportunities for cats to play, explore, scratch or just relax. Felines can sharpen their claws on the durable sisal scratching surface instead of on your furniture or carpet, giving them a healthy outlet for their scratching instincts. Spunky cats can jump, climb or perch in the plush hammock and lie in wait for unsuspecting prey or just relax and enjoy the view. For a cozy retreat, they can crawl inside the soft sided condo with a plush insert. Suitable for cats of all ages and activity levels. One year warranty. Color: gray/light gray. Dimensions 20.25 L x 13.75 W x 25.5 H inches. Scratching pad: 16 x 10 inches. Condo opening: 7 inches in diameter. Weight: 11 pounds.
Color: GRAY/LIGHT GRAY
Brand: Trixie
ASIN: B00ZUC8B2M
Part No: 44771
BEWISHOME Large Cat Tree Condo with Sisal Scratching Posts Perches Houses Hammock, Cat Tower Furniture Kitty Activity Center Kitten Play House Grey MMJ03B
BEWISHOME Cat Tree Tower is composed of good quality plush material, giving your cats a soft and comfortable touch in their estate. Nicely cushioned perches, spacious houses, sisal scratching posts, several layer design, cozy hammock, jingly balls will provide a lot of lounging room and fun to your kitties. They can watch birds and squirrels on the perches, take a nap in the condo, jump up and down, play with toys, or explore around in their castle. Solid construction with balanced design and strong base ensures your fur babies being safe as well as having fun from this cat stand. The cat climber in smoky grey color will also match the furniture of your room. It will be a great tree for all size cats. Your cats will love their new castle! Specifications: - Main Color: Smoky Gray - Material: CARB P2 grade environmental board + plush fabric covering - Product Size: 36.61"L x 30.71"W x 62.20"H (93 x 78 x 158cm) - Package Size: 24.41"L x 22.44"W x 11.42"H (62 x 57 x 29cm) - Some simple assembly required Package Contents: - 1 x Cat Tree - 1 x Instruction
Color: grey
Brand: BEWISHOME
ASIN: B07D32FXV8
UPC: 716253038195
Part No: MMJ03B
PetPals Paper Rope Natural Bowl Shaped with Perch Cat Tree
PetPals Group Inc.A California based global provider of pet products with more than 20 years of experience. VisionOur goal is to provide a variety of products, whether influenced by classic, fashion-forward, or eco-friendly design. Manufacturing & DesignPetPals manufacturing team accepts all custom orders. Our design team can create the one of a kind product you are looking for. Key FeaturesPetPals paper rope perch with bowl lounge, plush fleece pillow and duel sisal posts. This cat tree is a modern looking natural recyclable paper rope cat tree condo with a perch. This is a pet product with a stylish design that flows with your home decor. Satisfies the needs of fussy felines and the aesthetic tastes of cat lovers! Durable and sturdy, perfect shape and function. Specification Include scratching posts, one lounge, a perch and pillows. Natural material is good for the cat if they like to chew on it. Easy to clean! Use lint roller or vacuum, Please spot cleaning. Assemble needed, approximately 10minutes, all tools and instructions included.
Color: Brown
Brand: PetPals
ASIN: B009ESOCEO
UPC: 818483010795
Part No: PP9058A
Paws & Pals Cat Tree House, 16 x 16 x 20-Inches, Multi 2 Level, White with Scratching Post Tower, Hammock Bed and Pet Toy Ball
The Paws & Pals Tough Deluxe Cat Playground is the best multi-level cat tree tower complete with cat house condo for privacy. Natural sisal posts and rope are the purr-fect scratching aids for your cat's claws. Featuring multiple sturdy climbing & sitting platforms and a padded top perch, Paws & Pals cat home may also includes fun, interactive toys to keep your pet entertained and active. This Brand New Heavy Duty High Quality Free-Standing features for a lounge for fun games and bed rest (Accessories may be removed for play in or out of the unit). Scratch pole is great for Small, Medium, Large, Young Kittens or Even Big Old Senior Cats.Easy assembly in just minutes with included instructions. Manufacture: Cat playground is designed, warehoused & shipped in the USA. Made in China. Fabric: Fully Polyester plush faux fur covered platforms. Care: Spot clean soiled areas with mild detergent or soap. Blot rinse and air dry.
Color: White
Brand: Paws & Pals
ASIN: B01AOD7Q68
UPC: 840345105158
Part No: PTCT-H01-WH-AMZ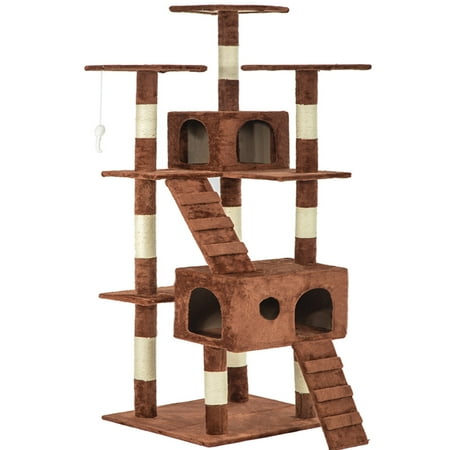 Brown 73" Cat Tree Scratcher Play House Condo Furniture Bed Post Pet House
Cat Tree Bed House
Size: L
Rating: 4.9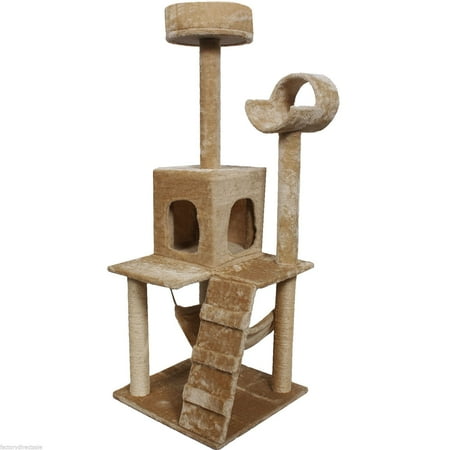 52" Cat Kitty Tree Tower Condo Furniture Scratch Post Pet House Toy Bed Beige
Cat Tree Bed House
Model: PS5187BE-MASTER
Color: Beige
Size: M
Rating: 3.5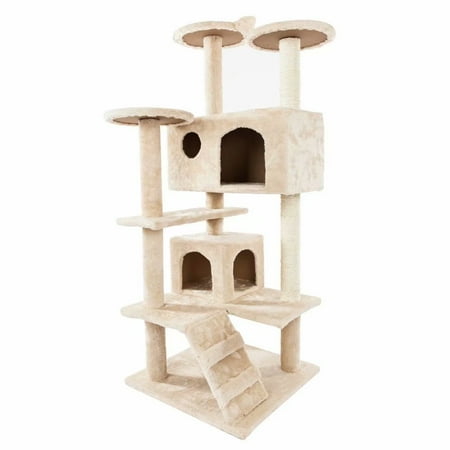 Cat Climbing Towers and Trees, 53" Cat Tree Toys, Pet Play House Bed
Cat Tree Bed House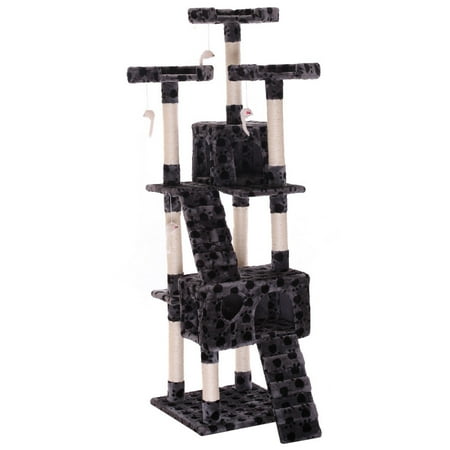 67" Large Pet Kitty Play House Cat Tree Tower Condo Furniture Scratching Post Gray
Cat Tree Bed House
Size: L
Rating: 2.65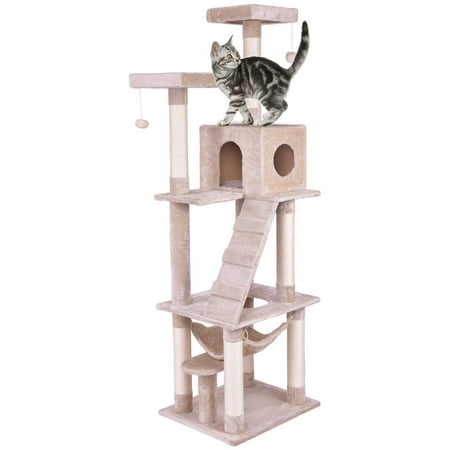 Gymax Pet Cat Tree Play House Tower Condo Bed Scratch Post Kitten Pet House Tower
Cat Tree Bed House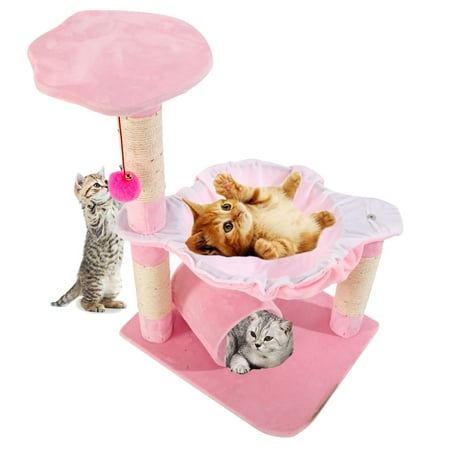 Zimtown 28" Cat Tree Condo Tower with Scratching Posts Kitty Trees Play House Bed Furniture for Kittens Pink
Cat Tree Bed House
Man Turns His House Into Indoor Cat Playland and Our Hearts Explode
Cat Tree Bed House
To keep his 15 rescue cats occupied, home builder Peter Cohen has constructed elaborate catwalks, tunnels, platforms and perches throughout his California home. This is one fun house you've got to see to believe. We revisited Peter recently and our hearts exploded again as he now has 22 cats and...
Cat Tree Bed House J7421 Search Results
Want more Cat Tree Bed House similar ideas? Try to explore these searches: Diamond Slide Pendant Jewelry, Dixie Sugar, and Safari Treats.
AllinShopy.com is a participant in the Amazon Services LLC Associates Program, an affiliate advertising program designed to provide a means for sites to earn advertising fees by advertising and linking to Amazon.com. Amazon and the Amazon logo are trademarks of Amazon.com, Inc. or one of its affiliates.