Pro Digital Vacuum Desoldering Station, Anesty Professional Removal Rework Station ZD-915 Iron Gun Built-in Vacuum Pump
Technical data: 1. Input voltage: 100-130V 2. Power consumption: 140 W 3. Main fuse: 3,15 A 4. ACCUM pressure: 600 mm Hg 5. Temperature range: 160°C ~ 480°C 5. Desolering Gun Voltage: 24 V (gun) 6. Gun Power: 80 W (heat up rating 130 W) 7. Heating element: PTC ceramic heater Application : Protable,widely use,suitable for frequent welding,also suitable for electronic products production line,mobile phone repair industry,precision electronic maintenance industry SMT components , plug-in element,platoon line, PCB integrated component of desoldering maintenance work. Package Included: Desoldering Station ZD-915 with US standard of power cord Desoldering Gun with tip 1,0mm 2 tips for desoldering gun 0,8mm and 1,2mm 3 needles for cleaning the desoldering tip Additional Filter for the desoldering gun Support for desoldering gun to place at the station Manual in Englisch
Brand: Anesty
ASIN: B07542D82F
Part No: ZD-915
Tenma 21-8240 Vacuum Desoldering Iron
Vacuum Desoldering Iron Allows single-handed desoldering of connections, PC boards and components. Spring-loaded plunger and 30W heating element removes most board level components quickly and safely. Easily disassemble for fast cleaning, tip and "O" ring replacement. Internal plunger pin automatically purges solder from tip with each use. Attached silicon cord is heat and solvent resistant.
Brand: Tenma
ASIN: B008DJRYIG
UPC: 640522693559
Part No: 1013015488
Desoldering Iron
One hand operation. Vacuum bulb. 40W Iron
Color: black
Brand: Science Purchase
ASIN: B00CUKTH2A
UPC: 091131182451
Part No: FBA_60849
ECG JT-103 Replacement Tip for J-045-DS De-Soldering Iron
ECG JT-103 Replacement Tip for J-045-DS De-Soldering Iron.
Brand: ECG
ASIN: B0195UZP1Y
UPC: 768249064046
Part No: JT-103
ECG J-045-DS Electric Corded De-Soldering Iron, 420 Degree C Tip Temperature, 45W
ECG J-045-DS Electric Corded De-Soldering Iron, +420 Degree C Tip Temperature, 45W.
Brand: ECG
ASIN: B00068IJSG
UPC: 768249061144
Part No: J-045-DS
Engineer SS-02 Solder Sucker
High Powered Solder Sucker How to use Product Step 1 - Press the plunger down until it is been locked and you will hear a click Step 2 - Make the tip of the soldering iron to the solder joint and allow the solder to become fully liquid Step 3 - Move the tip of the pump next to the molten solder. Move the iron out of the way and immediately cover the liquid solder puddle with the pump's tip, pull the trigger Step 4 - Repeat this process if necessary
Brand: Engineer
ASIN: B002MJMXD4
UPC: 798256173875
Part No: ss-02
Velleman VTDESOL3U Vacuum Desoldering Pump With Heater 30W
VELLEMAN VTDESOL3U VACUUM DESOLDERING PUMP WITH HEATER 30W
Color: Original Version
Brand: Velleman
ASIN: B00B88FRME
UPC: 816353012634
Part No: VTDESOL3U
Vastar Full Set 60W 110V Soldering Iron Kit, Adjustable Temperature with 5pcs Different Tips, Desoldering Pump, Stand, anti-static Tweezers and Additional Solder Tube for Variously Repaired Usage
The Vastar soldering iron that is made of iron plated tip and stainless steel, ensures the quality of the products and the properties of the stability and reliability. Adjustable temperature controlled soldering irons: 200-450 degrees centigrade, there is an special thermostat circuit to control the temperature and you can adjust the temperature according to your need by the knob wheel on the Electronic Soldering Iron . Beyond that, we specially provide you 5 soldering iron tips in order to meet different soldering jobs.You don't need a soldering station, just plug and it will work. Specification: Soldering Iron Length: 7.0 In Cable Length: 59.0 In Working Voltage: 110V Power: 60W How to solder: 1. Clean the parts to be joined. 2. Clean soldering iron tip and ""tin"" all faces of tip with a coating of solder. 3. Heat parts ,not solder, to be joined. 4. Apply flux-core solder to heated parts, not the soldering tip, and heat it till solder melts and flows freely. Package Included: 1 x Temperature Adjust Soldering Iron 5 x Soldering Iron Tips 1 x soldering stand 1 x Pocket Pack Solder 60/40 0.031 0.71 oz. Tube 1 x Anti-static Tweezers 1 x Desoldering Pump Cautions: 1. When the soldering iron is plugged in for the first time, there will come out a smoke from the tip end. The smoke ...
Color: Blue
Brand: Vastar
ASIN: B01712N5C4
UPC: 714953980936
Part No: VRK10-AXL-1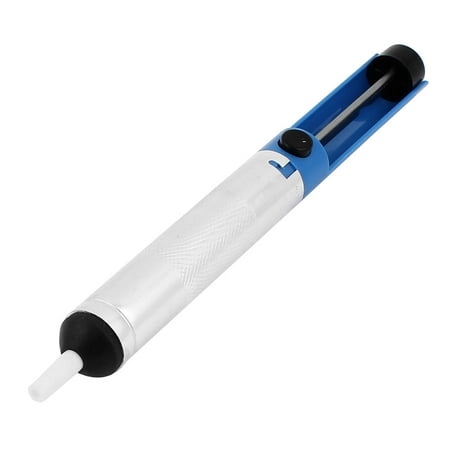 Unique Bargains Solder Sucker Desoldering Pump Soldering Irons Desolder Sold Removal Tool
Desolder Iron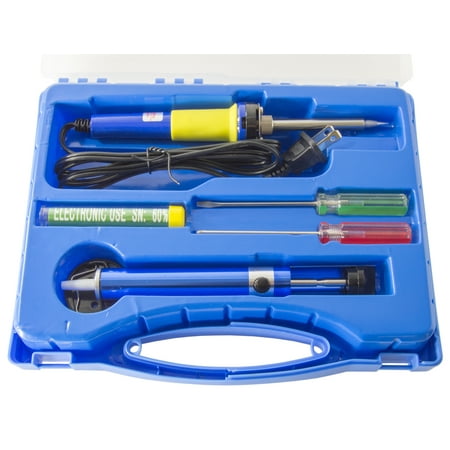 Soldering Iron Kit - 30w Soldering Iron, Solder, Desolder Pump, 2 Screwdrivers
Desolder Iron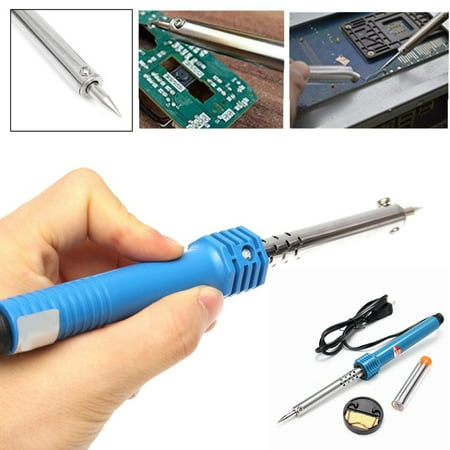 1 Set 60W 110V Electric Soldering Iron Gun Stand Kit External Heated Desolder Solder Wire Welding US Plug
Desolder Iron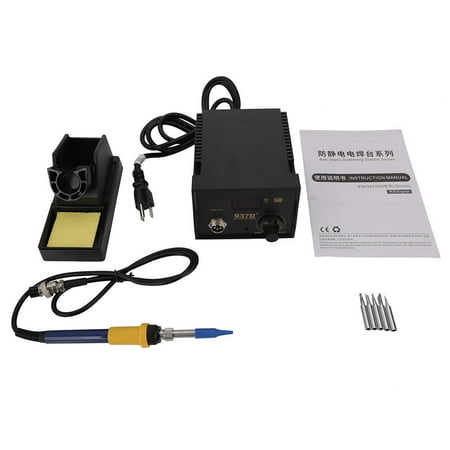 Zimtown Rework Soldering Station Heater Iron Welding Solder Desolder SMD Tool 5 Tips ESD 937D+
Desolder Iron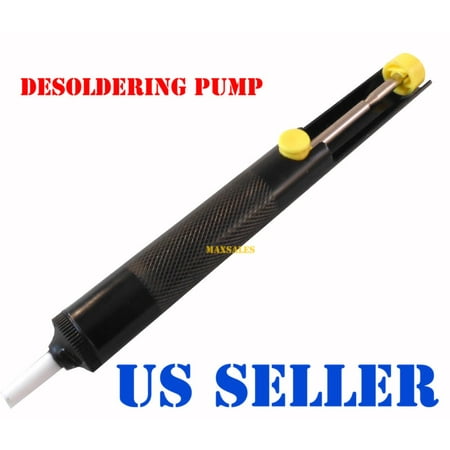 Solder Desoldering Desolder Pump Sucker Irons Removal Remover Tool Vacuum New
Desolder Iron
Using a Desoldering Iron Bulb Sucker for NES Repros
Desolder Iron
I prefer using a Desoldering Gun, but I started out by using this and it still gets the job done. http://amzn.to/1q2blRo ✦ New to the channel? Subscribe! https://goo.gl/BuAo7j ✦Facebook / Twitter / Instagram ✦ https://facebook.com/riggstalgic http://twitter.com/johnblueriggs http://instagram.com...
Desolder Iron F1173 Search Results
Want more Desolder Iron similar ideas? Try to explore these searches: Chipping Hammer Bits, Wellworth Comfort Height Elongated Bowl, and Turtle Pellets.
AllinShopy.com is a participant in the Amazon Services LLC Associates Program, an affiliate advertising program designed to provide a means for sites to earn advertising fees by advertising and linking to Amazon.com. Amazon and the Amazon logo are trademarks of Amazon.com, Inc. or one of its affiliates.