Multipure Aquaversa Model MP750 Drinking Water System With Counter Top Kit
You can drastically cut your monthly budget for clean drinking water! The Multi-Pure MP750SC is a highly effective drinking water filtration system that sets on your countertop next to the sink. It connects to your existing faucet with a hose and diverter valve, providing you with easy access to fresh, clean drinking water whenever you want it. The filter housing is constructed of durable stainless steel and the system is tested to meet stringent NSF-ANSI certification standards. With a lifetime warranty on the housing, a 1-year warranty on all accessories, and a 90-day money-back satisfaction guarantee, it is simply the best quality system available. The MP750SC may be converted to below-sink installation with the purchase of a conversion kit. Buy Your Drinking Water for 9¢ a Gallon with No Heavy Lifting!
Brand: Multipure
ASIN: B0017I5932
UPC: 815578005131
Part No: MP750SC
Multipure Aquadome Countertop Drinking Water System
The Aquadome features a plastic housing and is designed for countertop use only. It connects directly to the sink faucet with an included hose and diverter valve (dual-hose design) that allows you to select filtered or unfiltered water. The Aquadome is intended as an easily-connected countertop-only drinking water system for those that do not require a below sink installation option.
Color: White
Brand: Multipure
ASIN: B000PGI7KY
UPC: 815578005124
Part No: MPAD
iSpring CT10 Countertop Multi Filtration Drinking Water Filter Dispenser - White
The iSpring CT10 countertop filter combines four different filtration medias in a single cartridge and housing. The filter combines activated carbon, dual layered sediment filtration, KDF media, and calcite to deliver the best drinking water possible from a single convenient cartridge. The CT10 effectively reduces chlorine, lead, arsenic, sediment, VOCs, among other contaminants. The included faucet adapter comes with multiple thread sizes to fit nearly any kind of tap. Installation and removal of the filter is quick and easy, making it a great choice for permanent and short term uses alike. The filter comes with a 1-year manufacturer warranty and lifetime support from iSpring in Alpharetta, GA at (678) 261-7611. If you are in the market for a simple but effective drinking water solution, the CT10 makes an excellent choice.
Color: White with Multi Stage Cartridge
Brand: iSpring
ASIN: B06X9YQS1Z
UPC: 662425088041
Part No: CT10-W
CBTAD Replacement Water Filter Cartridge for the Water Guardian Countertop
The CBTAD is the replacement filter for the Water Guardian Drinking Water System by CBTech. The filter used is a solid carbon block filter that is considered to be the most effective method for reducing a wide range of contaminants of health concern, which may be present in the water. The carbon is compacted into a dense structure, causing every molecule of water to be forced through microscopic pores of carbon, effectively reducing pollutants. The Solid Carbon Block Filter is a replaceable cartridge designed so that it can be easily changed. Some additional advantages of the Solid Carbon Block Filter are that it does not waste water, there is no electricity required, it does not remove essential trace minerals that are beneficial to good health, it does not add salt or silver to the water; and it provides fresh, delicious, healthy drinking water.DO NOT ORDER THIS ITEM IF YOU DO NOT KNOW THE CORRECT PART NUMBER.
Color: White
Brand: CBTech
ASIN: B000J38ZFA
UPC: 815578005025
Part No: cbtad
Multipure Aquaperform Model MP880 Drinking Water System With Countertop Connection Kit
An excellent carbon block filter - the best you can buy actually - that filters chloramine, arsenic, lead, mercury, PCB's, asbestos, toxaphene - over 60 in all! Saves you $$$ over bottled water and you'll have it for a lifetime - you'll never have to buy another due to our Lifetime warranty!
Color: Chrome
Brand: Multipure MP880SC
ASIN: B0017IALXA
UPC: 815578005148
Part No: MP880SC
Maximm Cable 6 Ft 360° Rotating Flat Plug Extension Cord/Wire, 16 AWG Multi 3 Outlet Extension Wire, 3 Prong Grounded Wire - Black - UL Listed
Maximm 360° Rotating Flat Plug Extension Cord/Wire The rotating extension cords are unique for their sleek and adaptable design. They are versatile due to its rotating plug providing angular flexibility to a full 360 degrees, the prongs rotate in the plug so you can aim the cord in any direction you wish without blocking the other outlets. Clutter ControlMaximm Solves those power problems with ease using the Flat Plug Rotating Extension Cord. It has a space-saving design to eliminate bulky or awkward cords. Since it hugs the wall nicely and extends only a half an inch from the wall bending to a 90-degree angle - so it doesn't poke into adjacent objects - you can place your desk, couch, bookshelf etc, right up against the wall freeing up some space. Multiple UsesThe three outlet extension cord just makes it easy and convenient by providing you with up to 3 additional outlets for power distribution, letting you add another appliance or device right there without pulling out an extra cord and getting the same extension. The outlets are arranged with 2 plugs spaced conveniently on one side with the other plug on the opposite side. Quality construction The extension cord is UL listed and adheres to industry standards for safety and quality assurance for an added peace of mind. Specif...
Color: Black
Brand: Maximm
ASIN: B0757339XT
UPC: 842113144840
Part No: 360-33
Mrs. Meyer's Clean Day Multi-Surface Everyday Cleaner, Honeysuckle, 16 ounce bottle (Pack of 3)
Mrs. Meyer's Clean Day Multi-Surface Everyday Cleaners feature hard-working yet gentle multi purpose cleaning agents, while also providing a special, singular scent for your entire home. Honeysuckle blossoms fill the air with tempting sweet scent – a charming mix of flowers and fruits. So serene and sunny! We combine garden inspired scents, essential oils, and plant-derived multi purpose cleaning ingredients to clean kitchen messes and all over the house. Our cleaning spray is great on all non-porous surfaces such as finished wood and tile floors, countertops, walls, porcelain, bathroom fixtures, sealed natural and synthetic stone, and more. Available in other garden inspired scents and biodegradable products such as dish soaps and laundry detergents! Mrs. Meyer's – rooted in goodness.
Color: Multi
Brand: Mrs. Meyer's
ASIN: B01MYUL4TS
Part No: 808124114418
Zen Water Systems Countertop Filtration and Purification System, 6-Gallon
Zen Water System transforms ordinary tap water to clean, delicious, alkaline mineral water. This system uniquely combines 5 different functions into 1 system: 1.) Filter; 2.) Purify; 3.) Alkalize; 4.) Mineralize; 5.) Magnetize. The benefits are endless. The Micro-Ceramic Filter contains millions of tiny pores that measure 0.2 to 0.5 micron in size, which removes up to 99% bacteria, trap harmful contaminants, parasites and effectively reduce manmade chemicals, pesticides, herbicides and toxins. 5-Stage Mineral Filter Cartridge contains activated carbon which purifies your drinking water by eliminating bad taste and foul odor, leaving water crispy clean with a mountain spring fresh flavor. The silica sand contains superb absorbent qualities to remove impurities in the body and is known to aid in the formation and strengthening of connective tissues. The far-infrared ceramic balls are commonly used in alternative medicine to increase enzyme activity in digestive tract, improve memory function, regulate blood pressure, boost metabolism, strength and vitality. Mafia Mineral Stones infuse water with micro-nutrients and essential minerals such as calcium, zinc, potassium, manganese and increase alkalinity of water. Zen Water is eco-friendly and BPA-Free. It requires no electricity or pl...
Color: Off-White
Brand: Zen Water Systems
ASIN: B002F58M12
UPC: 753182256467
Part No: FBA-|176690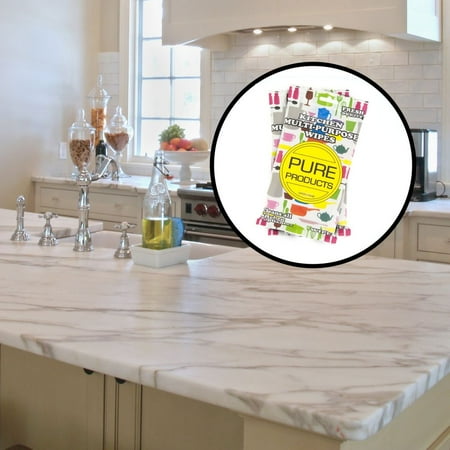 72ct Pure Products Multi-Purpose Kitchen Wipes Appliance Countertop Fresh Scent
Multi Pure Countertop
Ktaxon Countertop Water Distiller Machine All Stainless Steel Interior with 4L BPA-Free Container,Fully Upgraded Home Distilled Water Purifier Filter,750W Pure Water Maker,1L/h 5 Gifts FDA&CE List
Multi Pure Countertop
Model: ZB-1
Color: SteelOther
Rating: 2.4
Multipure's Aquaversa - What's In The Box?
Multi Pure Countertop
Ron at Water2Drink.com explores "what's in the box" when you purchase a new Multipure Aquaversa drinking water filter. The video covers four models, previously identified as the MP750 series, including inline (MP750SI), below counter (MP750SB), below counter with capacity monitor (MP1200EL), and ...
Multi Pure Countertop M3607 Search Results
Want more Multi Pure Countertop similar ideas? Try to explore these searches: Ginger Brandy, Floral Circle Pin, and Aged White Wine Vinegar.
AllinShopy.com is a participant in the Amazon Services LLC Associates Program, an affiliate advertising program designed to provide a means for sites to earn advertising fees by advertising and linking to Amazon.com. Amazon and the Amazon logo are trademarks of Amazon.com, Inc. or one of its affiliates.