HomeRight PaintStick EZ-Twist C800952.M Paint Roller Applicator, Painting for Home Interior, Home Painting Tool for Painting Walls and Ceilings
Paint your interior walls and ceilings in 1/3 the time without the mess that comes with traditional trays and rollers. The PaintStick EZ-Twist draws paint directly from the can into its handle and feeds it onto the roller cover with a simple twist of the handle. No need for an open tray eliminates dripping from the can or roller. The PaintStick EZ-Twist high-quality shed-resistant roller cover creates even coverage. The extended handle provides added reach eliminating bending over and reducing the need for a ladder. The Fastest, Easiest Way to Paint Painting the walls and the ceiling of a room can make the most dramatic change in your home, but it can be an overwhelming task that takes time to complete. With the new and improved PaintStick EZ-Twist, however, you'll reduce the amount of time spent painting and provide your home with a brand new look.    No Roller Tray, No Drips, and No Mess The EZ-Twist draws paint directly from the can and holds paint in the handle, which eliminates the need for a traditional roller tray. This will save you from the back-bending work of constantly going back and forth to refill on paint.    Upgraded, Twistable Handle The twistable handle allows for better control of paint flow. This makes the painting process easier and will leave you with ...
Brand: HomeRight
ASIN: B0102ZBALA
UPC: 756655092258
Part No: C800952
Wagner Spraytech C800251 3/8 inch Roller Cover HomeRight, Blue
We've taken the new and improved perforated and shed-resistant HomeRight Premium Roller Cover to a an even better level of quality. The roller cover nap is made of durable, lasting polyester, and the rugged roller cover core is made of long-wearing polypropylene. The roller cover can be used on both smooth and semi-smooth surfaces, such as drywall and plaster. Use the HomeRight 9" Premium Roller Cover with PaintStick EZ-Twist, PaintStick, power rollers and other pressure-fed paint applicators. The 3/8" nap is best for smooth surfaces and materials like latex-based and oil-based paints and primers. Roller Cleaning kit available under item C800369. Transform Your Room With a Fresh Coat of Paint Use the PaintStick to save yourself time, energy, and walk away with a beautifully painted surface on your walls or ceiling.  No Roller Tray, No Drips, and No Mess The PaintStick draws paint directly from the can and holds paint in the handle, which eliminates the need for a traditional roller tray. This will save you from going back and forth to refill on paint.  Exceeds Traditional Paint Roller The PaintStick has a variety of features to make painting faster and easier. The PaintStick extends to 54 inches for added reach and can paint an 8 x 8 wall in one minute. For even more features a...
Color: Blue
Brand: Wagner Spraytech
ASIN: B00100TBMC
UPC: 799198594766
Part No: C800251
Wooster Brush SR090 Sherlock GT Convertible Extension Pole, 2-4 feet
Sherlock GT Convertible poles have our R042 Conversion Tip stored in handle. It gives common threaded tools the quick on and off feature, making them GT compatible, so painters can use any tool with the system! To shift gears to threads, just pull the adapter out of the grip and attach it to the GT tip. It's the perfect balance of power and precision handling. The Wooster Brush Company has been manufacturing innovative, high-performance painting tools right out of Wooster, Ohio USA since 1851. Our trade names include Ultra/Pro, Advantage, Yachtsman, Shortcut paintbrushes; Super/Fab, Super Doo-Z roller covers; Sherlock frames and extension poles; Jumbo-Koter minirollers; and Prep Crew surface prep tools. You can feel confident knowing Wooster is the name behind your painting tools.
Color: NULL
Brand: Wooster Brush
ASIN: B000CSWWE2
UPC: 071497149732
Part No: SR090
Wagner 0530003 Smart Roller, 22 Oz Handle Capacity
The SMART Roller will transform your home faster than a traditional roller and with less mess. A simple squeeze of the ratchet power trigger directly feeds paint to the roller cover, eliminating the need for messy paint trays for refills. The roller is perfect for medium-sized projects, and the extended handle lets you reach 8' ceilings with ease.
Brand: Wagner Spraytech
ASIN: B00C1TAZTE
UPC: 024964214990
Part No: Smart Roller
Wagner Spraytech 0530010 Wagner Multi-Room Powered Roller Cover and One Adapter, 3/8 in Nap, quot
The SMART SideKick multi-room powered roller is ideal for large or multi-room projects. Wagner's innovative direct-feed roller system pulls paint directly from a 1 to 5 gallon container to continuously feed the paint roller for productive drip-free, non-stop painting. The SMART SideKick comes with one 9" - 3/8" nap Wagner roller cover, and one adapter for 5-gallon containers.
Color: -
Brand: Wagner Spraytech
ASIN: B00KMU443C
UPC: 735090833473
Part No: Smart Sidekick Power Roller
HomeRight Quick Painter C800771 Painting Edge Painter, Cutting In Edges, Painting Wall Edges for Home Interior, Paint a Room Quick and Easy
Simply dip the tip of the QickPainter into a can of paint. Draw back the plunger, sucking up to 4.5 ounces of paint into the handle. Then reattach the pad assembly and gently press the trigger. Paint will begin to saturate the durable neoprene pad, ready to apply to the wall. Once the flocking is primed and you're painting, a periodic press of the thumb resupplies the pad as you continue to cut in – up to 50 lineal feet on one fill! The secret is in the thousands of special flocked bristles that trap paint onto the pad, allowing you to keep cutting-in longer with less time going back and forth to refill. Take the pain out of cutting-in with QickPainter by HomeRight. And to make your entire project go even faster and easier, check out the HomeRight PaintStick or PaintStick EZ-Twist. Working on the same technology of loading paint into the handle, PaintStick allows you to paint an 8' x 8' area in as fast as 1 minute! The corner attachment and replacement pads are also available.
Brand: HomeRight
ASIN: B003IHVALK
UPC: 012564007715
Part No: C800771
Home Right C800798 Roller Tune-Up Kit
The HomeRight PaintStick Tune-up Kit gives you everything needed to make your HomeRight PaintStick and PaintStick EZ-Twist like brand new! It includes PaintStick parts to rebuild the piston and valve body with roller cover end caps and a foam spacer. This tune up kit works with all PaintStick and PaintStick EZ-Twist models. You get all this for one affordably low price: • inner end cap • foam spacer • outer end cap - toggle • outer snap on cap • end cap sealant strip • PaintStick EZ-Twist outer end cap • PaintStick piston O-rings • PaintStick EZ-Twist piston quad-rings • duck valve • foam wiper • retainer ring • petroleum jelly
Brand: HomeRight
ASIN: B003IHVAME
UPC: 012564007982
Part No: C800798
Paint Roller Brush Kit ARTISTORE Paint Runner Pro Brush with 2 Paint Runner Pro(1 replacement), Telescopic Poles, Handle Flocked Edger Room Wall Printing for Home Office(7 Pcs)
★Use Instruction:-Simply open the paint runner pro roller and fill it up with 900ml of paint. All the paint is contained in the patented roller so there's no constant dipping in a roller tray.-With the included pole adapter you can use virtually any broom handle to paint ceilings in a flash.-Paint Runner Pro's patented microfiber roller is perfect for virtually any surface.-Delicate wood, render, wallpaper, textured rubber mats and even porous concrete can all be covered in one coat with the Paint Runner Pro and clean-up is as easy as rinsing under a tap.★But that's not all!★★With the Flocked Edger you can paint right up against light switches, window sills, skirting boards and plug sockets without any need for masking tape.★And with the BONUS Corner Cutter you can paint right into those difficult corners without any uneven and unsightly brush strokes. ★Take all of your decorating plans off hold and paint a wall in 5 minutes or an entire room in 20 - all with no mess and no fuss! ★Package Included: -Paint Runner Pro X2 ( Replacement X 1 )-Flocked Edger X 1 -Corner Cutter Painter X 1-Resting Tray X 1-Easy Flow Paint Pour Jug X 1 -Telescopic Poles X 1 ★Warning: Do not exposure the brush under the sun too long , otherwise the plastic brush will become brittle easily....
Brand: ARTISTORE
ASIN: B07BWC4Y24
Part No: ARTISTOREweodogkw123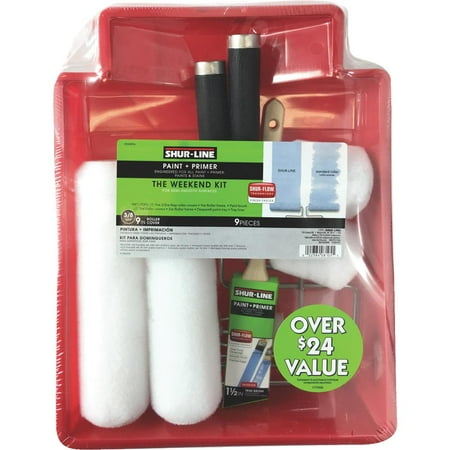 Shur-Line 8105RFN 9 Pieces Paint Roller Kit, Polypropylene
Paint Stick Roller
Model: 8105RF
Color: Multicolor
Size: EA
Rating: 5.0
Paint Roller Cover,9 in.,Foam PREMIER 9FM
Paint Stick Roller
Color: Multicolor
Rating: 5.0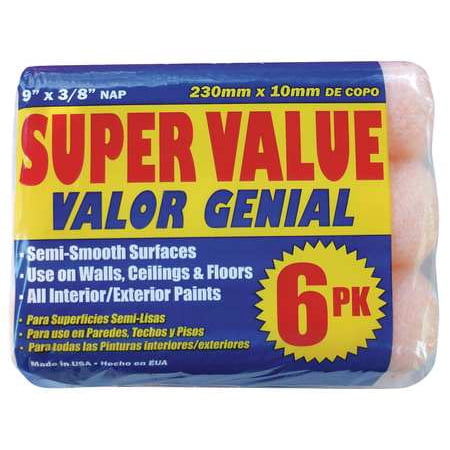 Home Pro™ Paint Roller Cover,9 In,Nap 3/8 In,PK6 PREMIER 6PK38
Paint Stick Roller
Model: 6PK38
Color: Multicolor
Rating: 3.5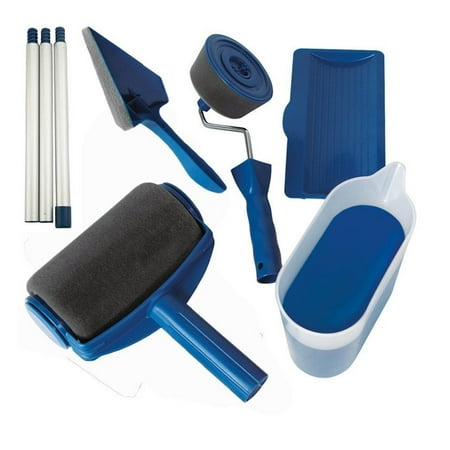 Paint Roller Kit 8 Pcs Paint Runner Set Paint Runner Pro Paint Roller Brush Handle Tool Flocked Edger Corner Cutter Home Office Wall Printing Tool Set
Paint Stick Roller
How to paint with the PaintStick EZ-Twist includes tips and tricks
Paint Stick Roller
BUY HERE: http://amzn.to/2wb36Xq In this video we show you tips and tricks for using the PaintStick EZ-Twist. It really is the fastest way to paint walls and ceilings. Painting the walls and the ceiling of a room can make the most dramatic change in your home. However it can be an overwhelming t...
Paint Stick Roller F3734 Search Results
Want more Paint Stick Roller similar ideas? Try to explore these searches: Dual Aux Input, Series Boom Cymbal Stand, and Ike Dollar Coin.
AllinShopy.com is a participant in the Amazon Services LLC Associates Program, an affiliate advertising program designed to provide a means for sites to earn advertising fees by advertising and linking to Amazon.com. Amazon and the Amazon logo are trademarks of Amazon.com, Inc. or one of its affiliates.