Carson - BEADWORK GARDEN STEPPING STONE - PET FOOTPRINT
The Carson Home Accents Pet Bereavement - Garden Stone displays long-lasting love for your beloved pet. Showcasing a paw embellishment with a loving bereavement phrase, this wonderful garden stone is cast in resin and can be hung by its keyhole hanger on the back. Originally founded as the Carson Casting Company in 1970 by Harry Carson, Sr., today Carson Home Accents is a wholesale manufacturer and distributor of a wide range of gifts, garden accents, and home decor. Operated by three generations of the Carson family, the company continues to craft traditional merchandise made of Statesmetal, an aluminum alloy resembling pewter that goes through the time-honored process of sand casting to create one-of-a kind accents that won't chip, crack, or break. Located in southwestern Pennsylvania, Carson Home Accents is a recognized leader in the industry, designing creative garden decor, wind chimes, candle accessories, inspirational goods, and custom cast metal products. Dimensions: 9.25W x 9.25H inches. Cast in resin to resemble the look of sandstone. Weighs 3 lbs.. Embellished with paw design and loving phrase. Keyhole hanger is cast into the back for easy hanging.
Color: Sandstone
Brand: Carson
ASIN: B008O5FDTQ
UPC: 096069101369
Part No: 10136
PETAFLOP Pet Memorial Stones Dog Cat Grave Marker Headstone - Loss of Pet Keepsake
About This memorial grave stone Dimensions: 6.3x7.8inch (approx. 16x20cm) Weight: 605gMaterial:Poly Stone. This cat dog memorial stone is designed with unique heart molding and a touching poem, including a photo frame slot to display a personalized picture. It can be used both indoor and outdoor, it looks just as good in your garden, backyard or it would stand on your fireplace mantle, shelf, or table.
Color: Grey
Brand: PETAFLOP
ASIN: B07F9PWDR8
Part No: C171105
JSYS Pet Memorial Stone Marker for Dog or Cat for Outdoor Garden, Backyard, or Lawn.
Whether you are a dog person, a cat person, or even a hamster person, pets are a big part of our lives. The close bond that you share with your pet is the reason that many people view their pets like another member of the family. This is why it is especially tough when you lose a pet. Commemorate special memories of your beloved pet as you display this beautiful reminder in your patio or garden. This memorial garden stone is a great way to display your love of your four-legged friend. Made of a durable and lightweight resin, this custom decoration works just as well indoors as it does outdoors.
Brand: JSYS
ASIN: B07CNJ2GF4
UPC: 616792171646
Part No: 43551-104484
Evergreen Garden Dog Paw in Hand Devotion Painted Polystone Stepping Stone - 12"W x 0.5"D x 7.5"H
Our memorial garden stones serve as a touching tribute to honor and commemorate those who have passed. They symbolize love and express condolences, celebrate the times shared with a special friend or family member, and preserve wonderful memories. The fact that the stone is outdoor-safe and weather-resistant makes it the perfect garden accessory, but it also functions beautifully indoors as well. Place flat on garden ground, along a pathway, by the front door, or on a patio or deck. Also can be propped against a tree or flower pot. Display indoors as wall art, or prop on a mantel or table.
Brand: Evergreen
ASIN: B0040HZJW8
UPC: 746851532153
Part No: 842078
JHB New York Dog Memorial Stone, Hand-Printed Heart-Shaped Personalized Loss of Pet Gifts Dog with Sympathy Poem and Paw in Hand Design, (Brown)
Hand-Printed & Hand-Cast dog memorial stones *beautifully paw in hand design and stamped with a touching poem From Jinhuoba Gifts & Crafts, An experienced professional arts and crafts design and manufacturing company * Professional: We have a professional designer team and skillful craftsmen team * Experienced: Our company has been engaged in arts and crafts industry for 20 years, Accumulated rich experience. Hand-Painted *EVERY Dog Memorial Stones has been painted by our skilled craftsman * Made the dog memorial stones out of the ordinary and unique Durable Material *Designed and built using only high-quality resin *sun resistant and waterproof coating Measures *Size: 9.5"L*8.5"W and Weight: 1.8lb *Prefect size: big enough to noticed in outdoor 100% Satisfaction Guaranteed No Risk Purchase, Hassle-Free Returns. With customer satisfaction as our number one priority, we proudly offer a Satisfaction Guarantee for all our merchandise and services. From our appealing merchandise and incredible values to our friendly customer service, we strive to provide a positive shopping experience by meeting or exceeding your
Color: Brown
Brand: jinhuoba
ASIN: B073P34B1V
UPC: 611029239045
Part No: JHBPMT004
Pavilion- Beloved Pet, Our time was Precious we Knew from The Start, The Journey we Took Left Your paw Prints on My Heart Garden Stone 10" Round
When someone we love becomes a memory, that memory becomes a treasure. Light Your Way Memorial from Pavilion Gift Company is a beautiful line of home and garden treasures created to keep our loved ones' memories alive while brightening our hearts and home. When you need to express your sympathy for someone in mourning, this heartfelt collection provides a sincere tribute. The warm yet subtle earth tones complemented by symbolic blue forget-me-nots and compassionate sentiment will bring the memory of a loved one to life.
Color: Copper
Brand: Pavilion Gift Company
ASIN: B00IPP7ADC
UPC: 664843190597
Part No: 19059
GraphicRocks River Stone Pet Memorial Headstone Grave Marker Dog Cat np xl
Sandblast Engraved River Rock Pet Memorial Headstone Grave Marker. This Memorial Stone is approx. 10in. stone Perfect for the garden display or paper weight. A beautiful pet memorial or just a lovely decoration with your pet or other loved ones name. Sweet paw print below your pets name.
Brand: GraphicRocks
ASIN: B00F6C4R8S
Part No: GR2RZ3066
Accent Direct Personalized Pet Memorial Stone | Custom Engraved Natural Stone | Grave Marker, Garden Stone, Desk or Shelf, Indoor or Outdoor | Color – Fancy Watermark
This unique memorial is the perfect way to display your love for a beloved pet. This is a thoughtful gift for a friend who has lost a companion or treasured loved one. Each stone is truly one-of-a-kind and can be placed in the garden, on a patio or deck, as a burial marker, and indoors on a mantel, desk or shelf. If placed outdoors, the memorial may develop a weathered patina overtime but will still look very nice. Since each stone is made from natural rock, color and texture will vary from the images shown above. Since each stone is irregular in shape the size will also vary but be about 5" tall x 8" wide x 1" thick. We can also process custom orders that are larger in size and contain more thoughts or memories about your pet or loved one. To contact us about a custom order, use "Customer questions & answers" below. Production Schedule and Shipping - normal schedule is shipping within 5-7 days of order receipt. If you would like expedited production, select "expedited delivery" and we will ship within 3 days of order receipt.
Color: Fancy Watermark
Brand: Accent Direct
ASIN: B07FR78W55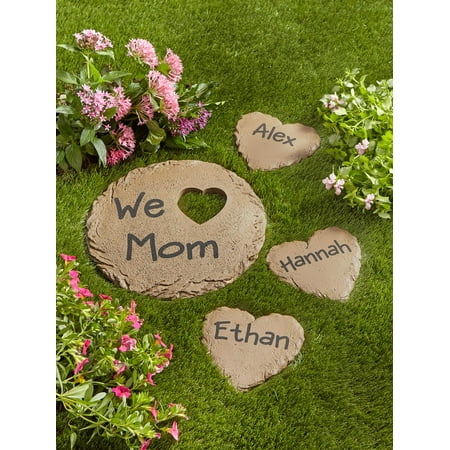 Personalized Garden Heart and 12" Circle Stepping Stone
Pet Memorial Stepping Stones
Model: 9926
Rating: 4.065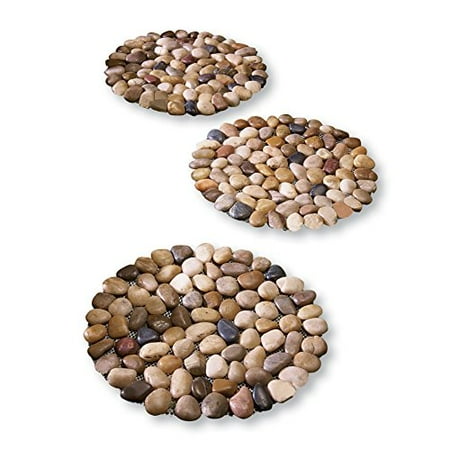 Limestone Rock Stepping Stones - Set Of 3
Pet Memorial Stepping Stones
Model: 35365
Color: WitchOther
Rating: 3.907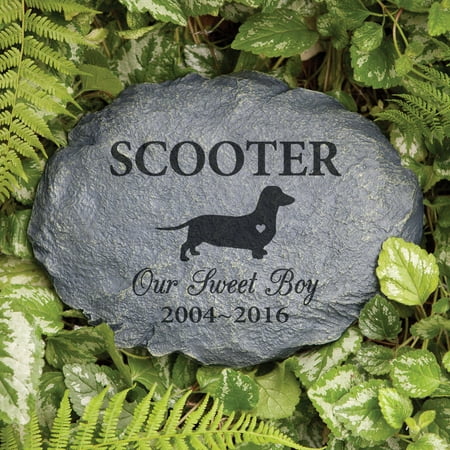 Dog Breeds Personalized Memorial Garden Stone
Pet Memorial Stepping Stones
Model: 62016
Color: Gray
Rating: 3.0
Pet Memorial Stepping Stone or Wall Plaque with Nameplate
Pet Memorial Stepping Stones
http://www.pet-memorialstones.com Pet memorial stones, including the Pet Memorial Stepping Stone or Wall Plaque with Nameplate, are wonderful ways to honor the pets we've loved and lost.
Pet Memorial Stepping Stones Z2805 Search Results
Want more Pet Memorial Stepping Stones similar ideas? Try to explore these searches: Dual Ps2 Adapter, 220 Oil, and Mom Lighted Acrylic Cube.
AllinShopy.com is a participant in the Amazon Services LLC Associates Program, an affiliate advertising program designed to provide a means for sites to earn advertising fees by advertising and linking to Amazon.com. Amazon and the Amazon logo are trademarks of Amazon.com, Inc. or one of its affiliates.