ST Fiber Optic Adapter - Comm Cable ST to ST Simplex Singlemode & Multimode Coupler - 5 Pack - Metal
Fiber Adapter (also known as flange, coupling) is a fiber optic connector for connection components, the product is very variety, including FC, SC, ST, LC, MTRJ, as well as carry out the transfer between each other such as: ST-SC, FC-ST, it's widely used in optical distribution frame (ODF), fiber-optic communications equipment, instrumentation, the feature is stable and reliable. Specifications: Fiber mode: Singlemode & MultimodeAdapter color: SilveryRepeatability: ≤0.10dBInterchangeability: ≤0.20dBDurability: ≤0.20dB max change, 1,000 matingChannels: DuplexBody material: MetalSleeve material: Ceramic sleeve Operating temperatures: -20-70℃Storage temperatures: -40-85℃Applications: Test equipmentConnection of optical links in optical active devicesJumper connectionProduction and testing of optical devicesOptical fiber communication system, CATVLANs and WANsFTTX
Brand: Comm cable
ASIN: B07Q3H5WQW
UPC: 742354935927
Ultra Spec Cables LC Simplex Multimode Fiber Optic Coupler
Connect two LC simplex multimode LC fiber cables with this coupler.
Brand: Ultra Spec Cables
ASIN: B008KKP0N4
Part No: 1876-32701-76b
10PCS Fiber Optical Coupler ST Female to Female Singlemode SM Simplex Fiber Optical Cable Flange Coupler (Yellow)
Sleeve Material:Mental Typical Insertion Loss (dB):
Brand: KELUSHI
ASIN: B01FM9WX76
UPC: 792551057793
Part No: KLS792551057793AMZ
Fiber Optic Keystone Coupler - ST to ST Singlemode Simplex - White
Networx(tm) Fiber Optic Keystone Couplers provide the ultimate performance at a competitive price. Fiber Keystone Couplers from Networx(tm) will live up to expectations time and time again while being pushed to the limits by even the most data hungry applications. Fiber Keystone Couplers offer a great solution when needing to run any length of fiber. By running fiber in the walls and out of the way you can be certain that the fiber will be safe from being crushed and broken. Networx(tm) Fiber Keystone Couplers are available in a variety of connections, multimode, singlemode, simplex and duplex.
Color: Singlemode
Brand: Networx
ASIN: B0062NCL2O
UPC: 845425015327
Part No: KJ-STSTSMS-WH
TEZONG Fiber Coupler SC to SC Fiber Optic Cable Adapter Multimode Simplex UPC 5 Pack
1.Type: SC/UPC to SC/UPC Multimode Simplex Fiber coupler,External Material : Plastic 2.Connect an SC simplex multimode network cable to an SC Simplex multimode fiber optic network cable.Be used in multimode fiber applications. 3.Adapters can get low insertion loss to transmission optical signal, be suitable for Fiber Patch Panel Adapters. 4.Free-hanging or panel-mount design. Dust caps protect against debris and contamination. Precision tooled metal with close tolerances for exact fit. 5.Package: 5 x Fiber Optic Coupler Flange 
Brand: TEZONG
ASIN: B07CZV9SZY
UPC: 787791789603
Part No: 4348363392
Fiber Optic SC to SC Adapter Single Mode APC Simplex - 5 Pack - Beyondtech Fiber Optic Extender / Fiber Couplers Series
Easy installation Beyondtech Single mode Fiber Optic SC to SC Adapter simplex have incorporated mounting clips that provide an easy snap-in installation. They also feature fiber dust caps, which protect them from debris. Properly tested Each fiber optic SC adapter is individually and rigorously tested and certified under Beyondtech fiber optic extender / couplers inspection processes to be within accurate optical insertion loss Coupler specifications SC to SC Adapter. SC Female to SC female. Color code: Green. Angled Physical Contact (APC).Single mode 9/125. Fiber Simplex. Complies with IEC 61754-4, IEC 60784-14 and TIA 604-3. RoHS compliant. Operating temperature: -20¡C to +70¡C. Panel and rack mountable. LAN, WAN, SAN and FTTx applications.
Brand: BEYONDTECH
ASIN: B00THNIEV8
UPC: 736983041616
Part No: 4348237499
Fiber Optic Adapter SC to LC Singlemode Simplex
Singlemode fiber 9/125 micron SC (Female) Simplex connector on one side and an LC (Female) Simplex (One Strand) connector on the other. Used to connect an LC simplex and SC simplex connector together.
Brand: Ultra Spec Cables
ASIN: B001B1JFA8
UPC: 812472011695
Part No: 812472011695
Ultra Spec Cables LC Simplex APC Singlemode Fiber Optic Coupler
Connect two LC APC simplex singlemode LC fiber cables with this coupler. APC is a special type of singlemode cable and is only used for LC APC cables rather than LC UPC (standard singlemode) cables.
Brand: Ultra Spec Cables
ASIN: B008KKT5GW
Part No: 1876-32701-76A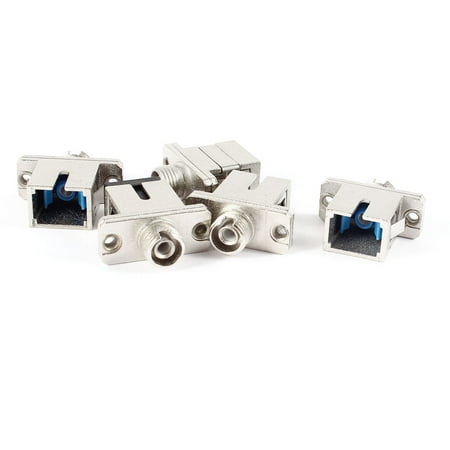 Unique Bargains 5 Pcs FC to SC SX Femal Simplex Flange Fiber Optic Optical Coupler
Simplex Fiber Optic Coupler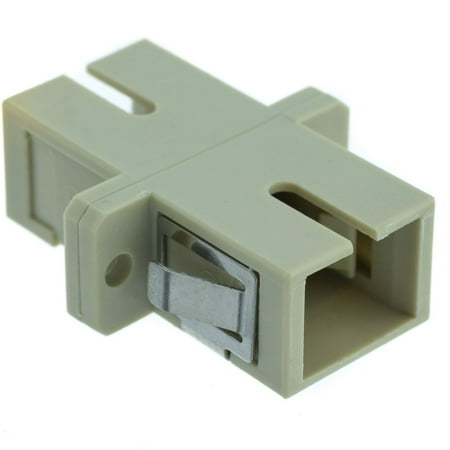 Offex Fiber Optic Coupler, SC/SC Female, Simplex, Plastic Housing
Simplex Fiber Optic Coupler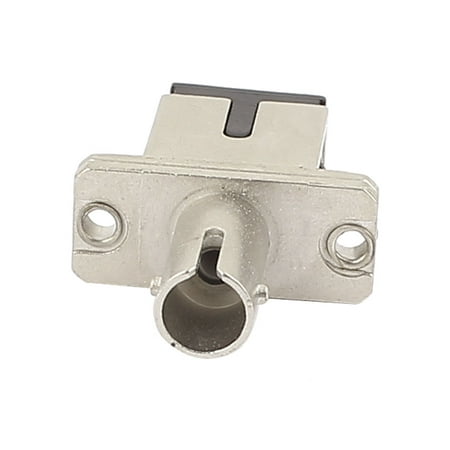 SM/MM ST-SC Simplex Fibre Coupler Flange Adapter Optical Fiber Connector
Simplex Fiber Optic Coupler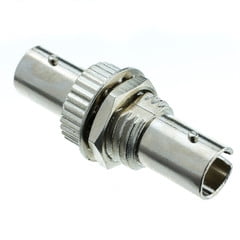 Fiber Optic Coupler, ST/ST Female, Simplex, Metal Housing
Simplex Fiber Optic Coupler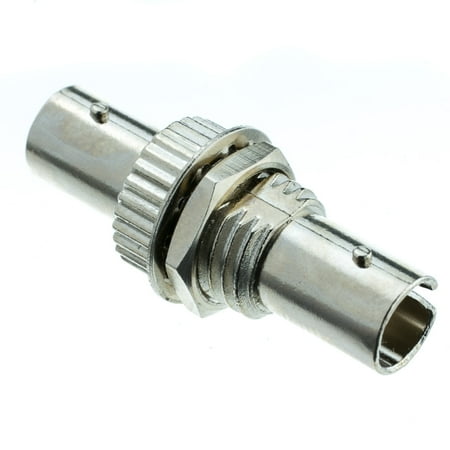 ACCL ST/ST Female Simplex Fiber Optic Coupler Metal Housing, 20pk
Simplex Fiber Optic Coupler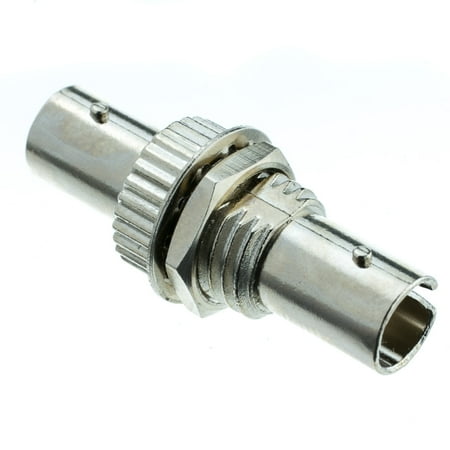 ACCL ST/ST Female Simplex Fiber Optic Coupler Metal Housing, 25pk
Simplex Fiber Optic Coupler
SC Fiber optic keystone insert feed through coupler
Simplex Fiber Optic Coupler
Dynacom SC keystone insert, for use with SC fiber optic connectors. This feed through simplex keystone insert accepts 1 SC connector. Sold individually. Pop into your faceplate, surface mount box and insert your fiber jumper and your on your way to the future!
Simplex Fiber Optic Coupler S5073 Search Results
Want more Simplex Fiber Optic Coupler similar ideas? Try to explore these searches: Lee Middleton Toddler Doll, Personalized National Guard, and Stepless Steel Iron.
AllinShopy.com is a participant in the Amazon Services LLC Associates Program, an affiliate advertising program designed to provide a means for sites to earn advertising fees by advertising and linking to Amazon.com. Amazon and the Amazon logo are trademarks of Amazon.com, Inc. or one of its affiliates.